A road marathon in Swiss with the lake of Geneva (also called lac léman) on one side and the grapevines on the other.
I was running this race with a new pair of Nike yellow and vibrant pink shoes. Just thought, that probably with these colors and shoes, I could just run like Bekele, winner of the Berlin Marathon.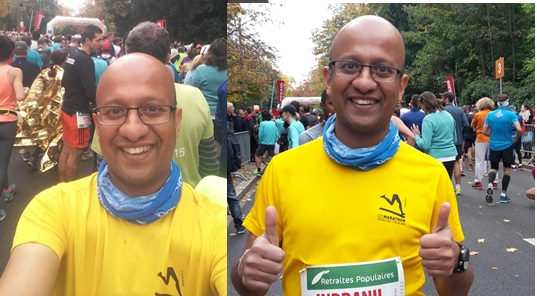 Me just before the start. Fresh and ready.

In 2013, I was here in Lausanne for a half marathon along with Rajesh and Sachin and at time I hadn't started with running the 42.2 km distance but I had great respect for all who ran that distance. And now that I do it myself, I have even greater respect.
Coming from Berlin, Lausanne marathon looked rather empty. From 40,000 runners there, only 3000 were in the field here. The crowd support was also less. Being a French speaking area- the crowds were going "Aller Aller" meaning "Go Go".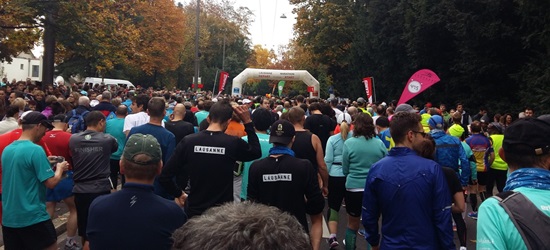 The Start of the Lausanne Marathon

The stretch was beautiful but windy, with strong winds coming from the side of the lake. Whether it is a city marathon like Berlin or a marathon that takes you to outskirts of the city like in Lausanne, each marathon has a different flavor. Each marathon has a different view.
In Lausanne, you run the same stretch twice just like as in Zurich Marathon. This makes it a bit redundant but the good thing is that you get to see the elite runners running by in the opposite direction.
Normally, I run in Asics, but this was the first time I was running a marathon in a Nike. The first 21 km was done in 1h 55min. However, my legs gave up in the 2nd half and I ran the second half in 2h 33min. The 2nd half was filled with cramps and I walked a lot. Actually, more than a lot. A bit of every km after 30, I walked. One spectator even said "It seems you are on holiday; you should run". But my legs gave up or was it my mind? Was it my new shoes?
May be it was a combination of all? And probably the fatigue of running marathon every month.

With cramps and limping but with a smile, I finished my 9th marathon in 4h 28min.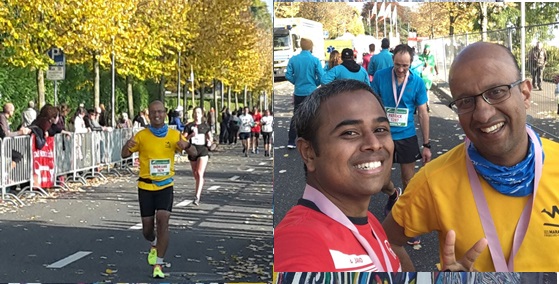 With Dipankar. Drained and tired

The finish of a race is the start for the next and it is important to finish what has been started, if possible. And there is always a possibility.