December 2015 – it was time for my trip to India, time to visit my parents in Delhi. Maybe, I could mix it up with my new addiction. Maybe, I could mix it up with a marathon? A quick google search revealed 17th Jan 2016 - Mumbai Marathon. Wow!! Here was an opportunity. An opportunity to run the incredible 42.2 km for 1500 Indian Rupees (INR) only. What a delight! The registration cost for all my previous races were far more expensive ranging from INR 5800 (in Florence) to INR 9400 (in Jungfrau). So the Mumbai marathon was a perfect bargain.
The registration process was a wee bit complicated and the marathon organizers (probably) made sure that the confirmation process took time. Even an email enquiring about my registration got no reply from the organizers. In a way, it was worth the money even before the race. The race confirmation finally arrived after a month.
I arrived in Delhi almost a month before the race day. It was my holiday trip and the marathon was later included into the itinerary. I wanted to be with my parents, see my friends, visit places, eat in my mother's kitchen and run a marathon.
Normally 3 weeks before the race, I do my peak training. I was in Delhi and I had to train-but where? Shalimar Bagh (Bagh means garden or park) is the place where I stay in Delhi and close to my home is a beautiful "Peacock Park". And yes, there are peacocks. It is a park where peacocks and dogs co-exist. I trained there two times a week (around 10 km) and once a week I went to the Commonwealth Stadium (for track training) near Akshardham temple (for distances more than 10 km).
Even with all these trainings, I was nowhere close to my typical planned training and how could it be, I was on holiday. For 4 days, I even flew to Chennai. 2 weeks before the marathon, my mother fell down the stairs, hit her head and was hospitalized. Luckily, it was not that bad. She got some stiches and was allowed to go home. So there was plenty of action before the race. Was I running the Mumbai race half-prepared? With an experience of running 4 marathons in the last 9 months, my head said - it shouldn't be a problem. But I was wrong (as always).
I arrived in Mumbai on 15th night (it was a Friday) and stayed with my Roorkee University mate Sanjoy. We had met during our Masters. We were from different departments but we lived in the same hostel complex and sang songs, did late night gossips with hot chai, and I often asked for cigarettes from him back then (this he reminded me of even after so many years). We chatted about our old days, about life and how much the professional life sucks, and I slowly dozed off happily looking at the Holiday Inn hotel.
On Saturday 16th Jan, I went to collect my starting number with Omkar (a student at Institute of Chemical Technology in Mumbai). There I met there Venkat and Anil Mahobia. Venkat came from Singapore and Anil from Bangalore. We did some usual chatting on our trainings, on our previous races, race timings (typical for marathoners), clicked our pre-race selfies (also typical) and wished good luck to each other for the next day.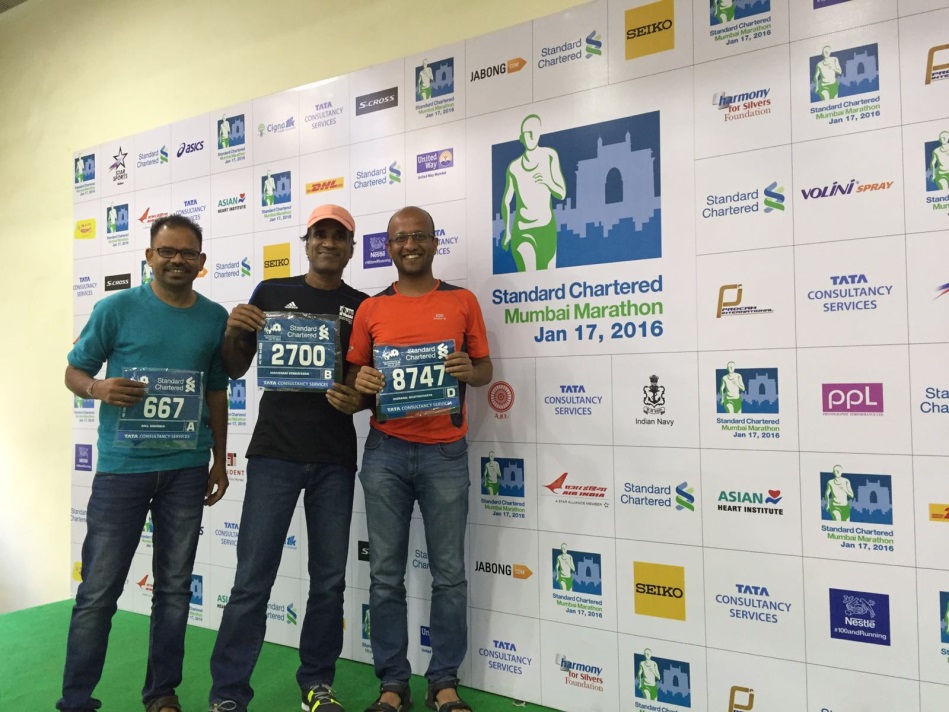 From left- Anil, Venkat and sportingly yours
The race, next day, was to start at 5:30 in the morning. I had to get up at 2:30 am. Till 12 that night, I couldn't sleep. Then I slept for an hour. Got up around 1:15 am or so. Tried to sleep again and I slept (I think) only to hear the alarm ringing at 2:30 am. I needed more sleep but I had to perform my pre-race rituals. Chandana, Sanjoy's wife, was super kind to get up at 3:30 am and prepare breakfast for me. I had asked them not to do this but they insisted. Thanks a lot Chandana.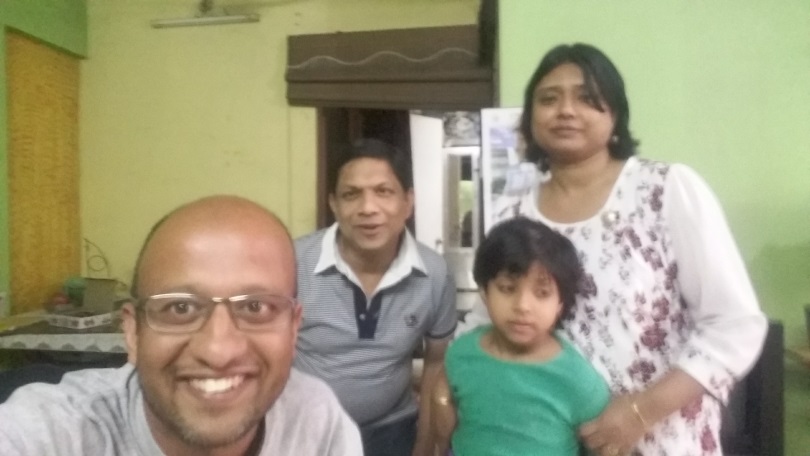 A selfie with Sanjoy , Chandana and their daughter Sudeshna
I left their home at Sakinaka near Andheri East at 4:00 am, took an autorikshaw which dropped me to a place from where I could take a taxi. I hopped onto a waiting taxi which took me to Church Gate (only taxis are allowed in that area). Anyway, the streets of Mumbai looked absolutely brilliant at that morning hour. It was another face of Mumbai as compared to the typical high decibel day time Mumbai life. It was great to see both sides of Mumbai - the crowded and the deserted.
As I reached the marathon starting place, the marathoners had started gathering. The deserted early morning street was getting crowded. Just like me, others too had got up early.Some of the runners had even slept in the nearby railway station just to be on time for the race. At least I had a bed for few hours, so I shouldn't complain.
Now I needed to start, run and finish the race.
The start of the race in front of the CST Station was marvelous and the decorated station looked amazing with the lights. It was one more version of Mumbai.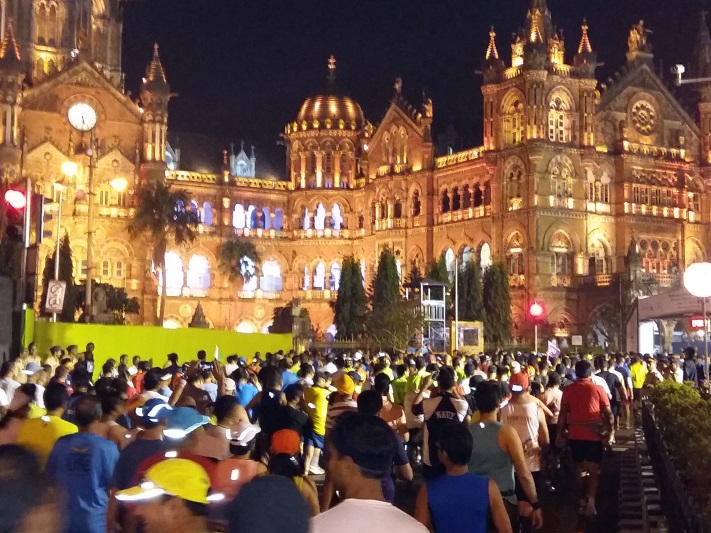 The beautiful CST station as seen by from the start line
At 5:30 am the race started. It was still dark and the temperature was pleasant. I wanted to cover a good distance before the sun would blaze in it's full strength (cheering all the runners). I had been told that Mumbai's heat and its humidity can be a factor. The initial course was along Mumbai's famous Marine drive and then across the Sea Link Bridge. Up to the half marathon mark all was good. I crossed the half marathon mark in 1h 56min 32sec at an average pace of 5:31 min/ km.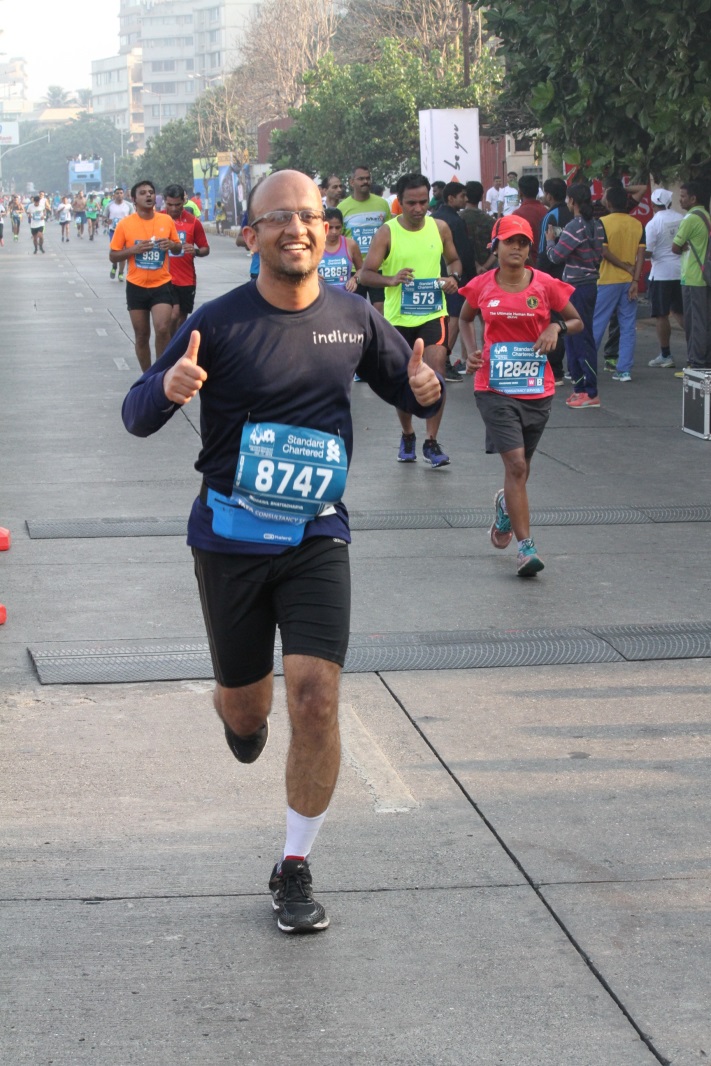 At the half-marathon mark
All was well. From time to time, I exchanged a remark or two with my co-runner/s (something that I love to do). I kept cheering them and in return got some encouragement. Met one senior citizen marathoner, his name was Colonel Rawat. He was 65, he said. Wishing him good luck, I carried on. Then met Venkat, ran few meters with him, we took a selfie and off I went.
There were all kinds of music being played or being performed on the side lines of the marathon. From rock and roll to Bhangra music. As the daylight settled in, more and more people were out of their houses cheering the runners. It was party time on the streets of Mumbai. People gave the passing runners biscuits (Parle G was the most popular brand), chocolates, oranges, water melons, positive energies and smiles. People were holding banners to cheer the runners and one that caught my attention read "You run better than our government". The atmosphere was loud, lively, and full of energy and probably the typical Mumbai style. Many of the co-marathoners were running for their clubs and they received loud cheering from their supporters. It was also incredible to see the high number of bare foot runners.
Up to 30 km, all was well and I did it in 2h 49min at an average pace of 5:43 min/ km. But then around 31 km, I felt the air getting heavier. My strength was getting limited. My pace was dropping.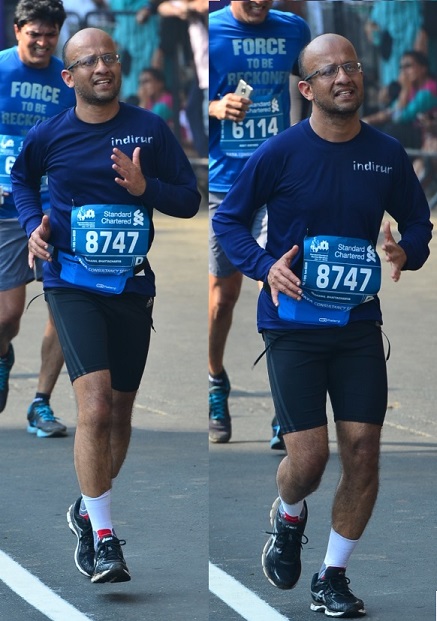 At times the going may get hard. At that time - just need to keep going.
I wanted someone to shout my name loudly, to give that extra punch. I somehow missed my friends who would call out my name so I cheered myself. The sun was now shining generously and the humidity was high. "Come on Indi" I shouted aloud. Perhaps it helped and for the next 500-700 meters I ran. Then I stopped and walked for a minute or two. I continued like this.
Around 32 km, a marathon car passed by and informed us to make way for the elite runners. This was followed by a double decker open roof bus with media and photographers. With big strides, the elite runners passed by and they made running look so easy and graceful even after 30 km. In Europe, the elite runners start at the beginning of the race as the course ahead is empty but it was different in Mumbai Marathon. That's another reason why every race is unique in its own way.
Running in an unknown stretch has it own benefits and disadvantages. The main benefit is that you get to run and experience a completely new stretch plus you develop your confidence to run in an unknown territory. In a way, the unknown stretch somehow seems longer than a familiar course because you do not know what's coming up. The disadvantage is that in the last few kilometers when the moving becomes hard and the muscles cramp then you really need to know how much more it is from the finishing line. Then the unknown really sucks. Even when I knew it was just 3 km more to go, I still asked a spectator how far I was and when he replied "just a little bit more", it helped.
The last 2 kilometers were hard. I was completely out of gas. I told myself (as I always do) "Indi keep on going". I kept moving slowly with intermittent walking and soon I was in the last kilometer. I crossed the 800 meter mark, and then the 400 meter, the 200 meter and finally I could see the finish line!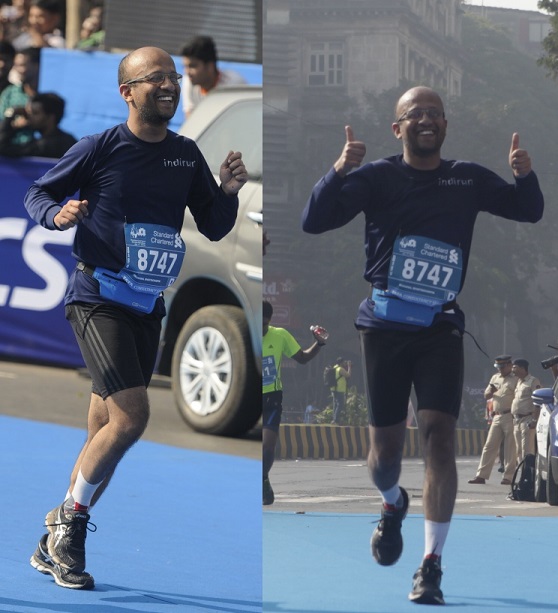 I was all smiles on seeing the finish line
The sight of the finish line, injected some fresh magical energy into me. I started running fast again. With my fist up and jumping in Mumbaiya style, I finished my 5th marathon.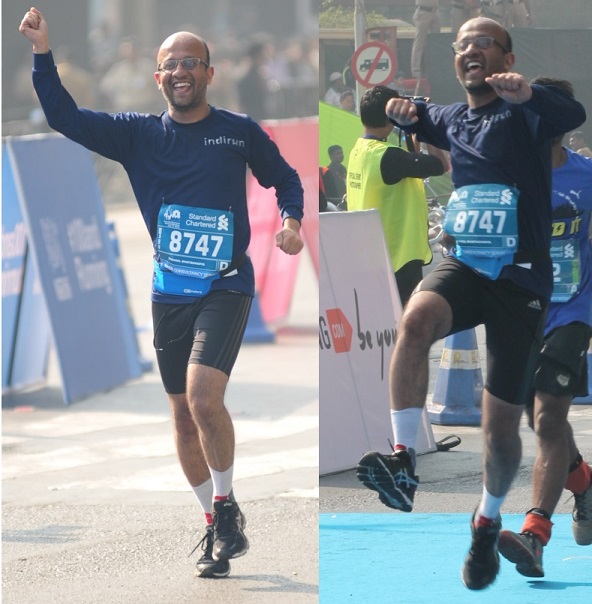 Mumbaiya style finishing
I did it again. I finished the race in 4h29min.
I was satisfied and peaceful with having run another marathon. It was a special one as it was my 1st marathon in my home country.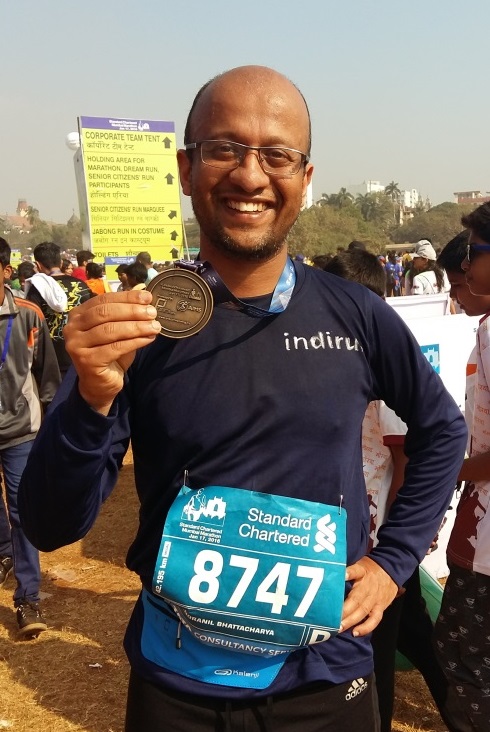 With the medal

I was contented and glad that I was able to finish another race that I had started.
I learned again that every race is a different race. A bit of additional training might have helped me during the last few kilometers but I shouldn't forget that I was on holiday and that I was able to be with my parents, meet my friends, visit places, eat in my mother's kitchen and then finish a marathon.
After the race, I flew back to Delhi and on the next day I took my mother to the hospital again. She had recovered well and the stiches on her head were removed. I was glad.
On the the next day, I left for Zurich.
It was now time to start my training for the Zurich marathon. That's where I had started off last year for my 1st marathon. I got to repeat the whole training ritual again. But there is no peacock park here in Zurich.