The difference between writing a blog and running a marathon is – marathon starts on time and has an end time. Writing a blog has neither a start nor a stop time and that is the reason why I am always late in writing a post-race report.
My 3rd full marathon (42.2 km) in 2015 was in Frankfurt, Germany on 25th October. After finishing the Jungfrau marathon, I had 6 weeks of time till the next race.
My training plan


After the Jungfrau Marathon, I had a quick and good recovery. My longest training was a 35.5 km run. My training went fine. No injury. No strange incident. I was ready for running in Frankfurt.
My first full marathon outside Switzerland

I never thought that running would take me to places. With a 7-hour bus ride from Zurich, I reached Frankfurt on Friday. The race was on Sunday. I had enough time to get to know the place and the people. In Frankfurt, Bhavani (a friend and an enthusiastic marathon runner) gave me the shelter and the much needed morning tea.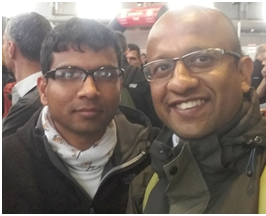 Bhavani and me when we went to collect our bibs at the Messe (Trade Fair) Centre in Frankfurt.
On the race day, we took the early morning train to reach the starting area. I was with the friends of Asha Frankfurt, who were running to raise funds to educate children in India.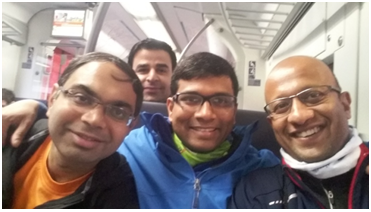 In train on our way to the marathon. From left- Ravi, Bhavani and me. Behind - an intruder Sandeep Bhat.
After the arrival at the starting area, which was near the Trade Fair Centre (Messe Frankfurt), I met the other runners of Asha Frankfurt.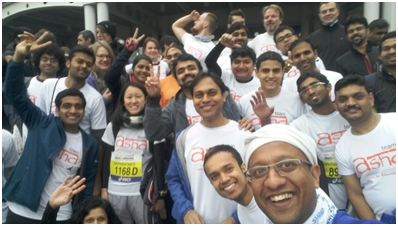 What do you do when you see so many enthusiastic runners? You take a selfie. I in my turban.
Around 25,000 people were running.
This was the first time; I was in the middle of so many runners. In my previous races in Zurich and Jungfrau, I did not see such a crowd- magnificent.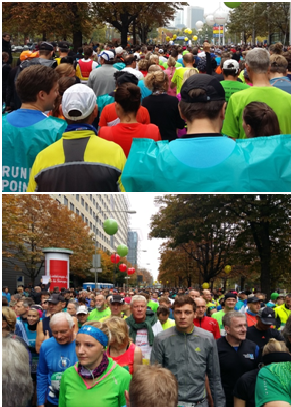 So many people. A sea of colors. It was a great atmosphere. .
As the race started, I was in great spirits. I started easy and allowed the body to warm up. There were people cheering and lots of music. Drums, bands and singers all along. Great spirit. Great energy. People clapping and cheering all along.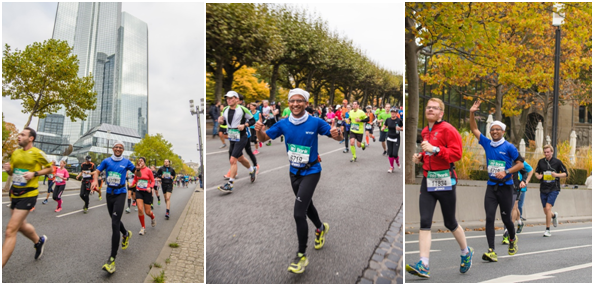 Still going happily here. These photos were taken by Keethan Shetty. http://www.keerthanshetty.com
It was amazing that many runners were wearing shirts with motivation messages. These messages somehow boosted my moral and kept me going. Around the 10th kilometer, I overtook the 4-hour pacemakers. I maintained my pace and was well ahead of them. Till the half marathon mark (21.2 km), I was going great and my body was feeling good. As I approached the 30 km mark, my strength and stamina was slowly going down. I stopped for a while and I saw the 4-hour pacemakers passing by. As I saw them passing, I started again. However, I could not maintain their pace and soon I lost them. Around the 35th kilometer, the 4h15min pacemakers also overtook me. Now I was feeling bad.

Between 30 – 38 km, I stopped and ran. Ran and stopped. I was out of fuel. I thought I had trained well but apparently something was missing. During this phase, I even felt like quitting the race. I just did not want to run anymore. But then when I saw my co-runners who were visibly older than me continuing, I did not see a good enough reason to quit. I told myself – step by step. Not to think much. Just keep it on. At this phase, every km that I ran was a huge satisfaction. As I finished a km, I was waiting to see the mark of the next km.
At the 38th km, somehow I regained my strength. Maybe I smelled the finishing line. And for the remaining kilometers, I decided not to stop.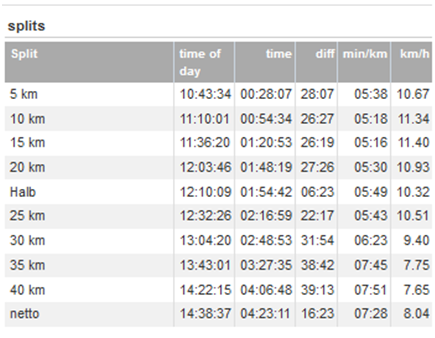 Till 25 km, I maintained a steady speed of 10.5 km/h. However, at 30 km I started slowing and between 30-35 km there was the maximum fall in my speed from 9.40 km/h to 7.75 km/h.
The Frankfurt marathon ends inside a big hall at the Trade Fair Centre. The last few meters to the finish line has a red carpet, lights and music. All runners finish like stars. I crossed the finish line with my fist up in the air in 4h 23 min 11 sec
After the race, I carried my tired body and gave my neck to a guy who smilingly hanged the medal around it.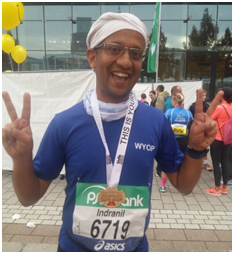 Here I am and it is me. Happy with the medal
After the race, I did not feel good and had cramps. I took off my shoes and sat in a corner. I did not feel like doing anything. I desperately needed a warm shower. I dragged myself to the shower area. I took the much needed warm shower and I felt really better.

Later along with friends of Asha Frankfurt I went to the local South Indian Restaurant- Saravana Bhavan. This was a real post-marathon treat and all the remaining pain was gone (temporarily).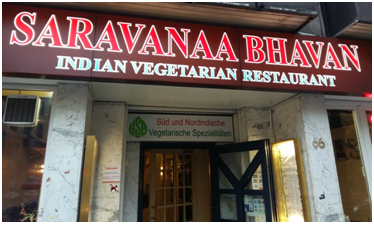 A place to go for good food when in Frankfurt
The next day it was time for me to leave Frankfurt. In the remaining time, I decided to see a bit of Frankfurt. It is a place of high-rise modern buildings and old town. The stretch along the river Main is long and beautiful, and I saw many runners.


Frankfurt. The day after the marathon. I saw many walking in the city with their medals.
In a long distance race, besides your own determination other factors do play a role.

As I was tired and was walking, some co-runner just came from behind, patted my shoulder and said "Come on buddy, you are good". Immediately, I started running. I don't know his name and probably I never will.
Like in every race, here as well I made friends.
Like every race, this race was also hard.
Like in every race, here as well I felt giving up.
Like in every race, I discovered myself again.