In November 2015, I signed-up for Berlin marathon to be held on 25th Sept. 2016. Being one of the World's major marathon, thousands of runners from all around the World register but not everyone is lucky to be at the start line.
Post-registration, a lottery takes place which decides the fate, whether one would be there at start or not. My fate was also at test.
I thought I was lucky at least as far as marathons are concerned. Yes "thought" and I do think liberally. However, an email, in the beginning of December 2015, from the Berlin marathon organizers kicked my luck out of the beautiful window.
This is what the mail said-
"Dear Indranil Bhattacharya,
The dice has been rolled and race number drawing has been completed. Unfortunately, you were not one of the lucky winners for a spot in the 43rd BMW BERLIN MARATHON 2016".
Also the dice did not roll in favor of my work colleague Daniela Bukatz.
The next day, Daniela and I sat and discussed the alternatives. She mentioned that there may be a chance. She knew someone who probably may help us.
Time went by and so did months and I kept asking Daniela if there was any news from her contact.
Finally, in April 2016, one morning as I was on my way to work, Daniela called "Indi check your mail, quickly. We have a slot". I biked to my work like an Indian version of Lance Armstrong. As soon as I reached my work place, I logged on to my computer, opened the mail and there it was- A real ticket for Berlin Marathon.
Yes! Yes! True. I wasn't dreaming.
The mail said- "Register for the Berlin marathon with this code" and guess what. There was a grand surprise - The registration fees of 100 Euro was waived. Isn't that great? Sometimes things do happen for a reason. The luck that flew out of that beautiful window in December was back in Spring. That's why it is important to stay hopeful (at least if it's Spring).
This was the first time; I would run a marathon and that too a World major without having to pay for the race. Incredible!!! It felt as if I was a "sponsored" runner.
During this period, I was anyway training for Zermatt marathon, a mountain race in the Swiss Alps.
Running several marathons in a year has one benefit. You don't need to train specifically for one race. The previous marathon becomes a part of your long training run. However, there is a downside to it. When one runs too many races, the primary concern is to stay free of injury.
When I ran the Frankfurt marathon in 2015, I came in contact with Manoj Rege who was living in Frankfurt. Once it was confirmed that I would run in Berlin, I asked Manoj if he could accommodate me in his apartment. He replied "Marathoners are always welcome". Manoj, thanks man.
On 23rd September, with the Air Berlin, Morag and I reached Berlin. Running again bought me to a new city. After the first Berlin night, the city welcomed us with a bright sunny dazzling vibrant morning. The first glimpse of the Berlin city and the famous Alexander Platz was fresh and lively.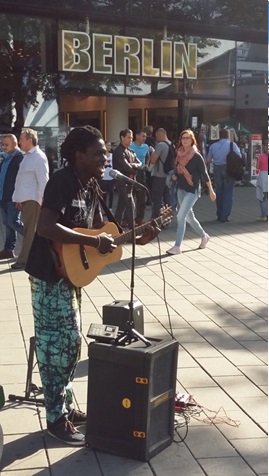 A street musician performing at the Alexander Platz. Brilliant he was.
Day before the marathon
Later in the day, we went to collect the bib (the starting number). There was a long que. Rather there were several queues. And it had to be – 40,000 were running the race.
Once I received my start number, I boarded the next train to Zermatt to attend the pre-race pasta party. I reached Zermatt and the first thing I did was to have a big plate of pasta. But one was not enough. A 42.2 km run with 2000 meters of ascent to cover was coming up. I had to carb load myself with another plate. That's why they say: "Guys who do sports do not eat mindfully" but I would say: "If you love pasta, you better do sports"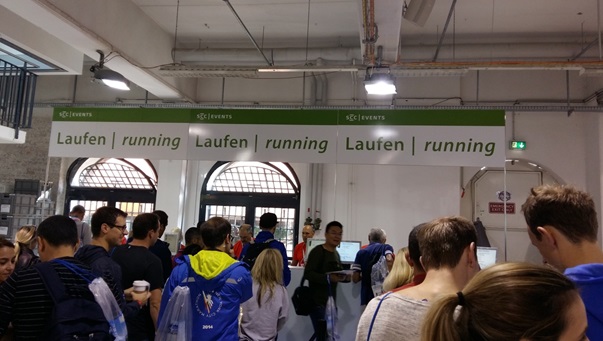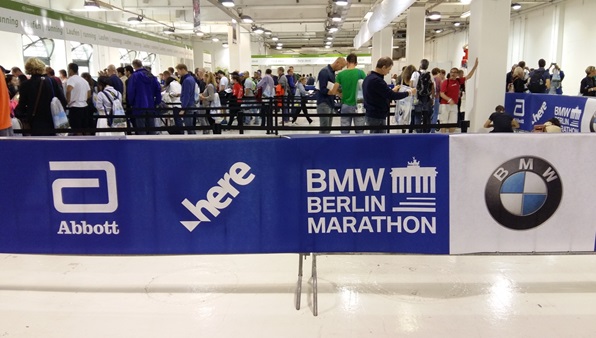 Bib collection center
After collecting the bib (starting number), we visited the expo where all the running and running-related companies were displaying and selling their products. There was also a big board and just for fun, I wrote my name amongst thousands of other names.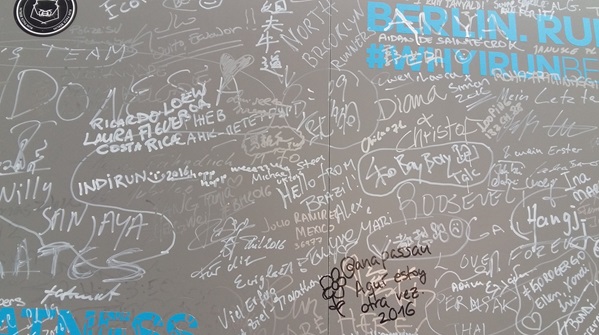 IndiRun on the board. Inside the red oval
The city was full of runners and was drenched in a festive running mood. The runners were accompanied with their friends and their friends. This I realized when I had to wait for my lunch- endlessly. It was definitely a record waiting time for a pizza. However, I didn't mind as the spirit inside the restaurant was very easy. The runners had hijacked the restaurant.
That evening, we went back to see the start area near the Brandenburger Tor (Brandenburg Gate) but the way was closed. However, we spent some time in front of the German parliament (Bundestag). In the front of the parliament is a beautiful green lawn. This would be the place where the runners would meet their family and friends after the race. I don't know of any other parliament and its lawn, in the World, that allows it's premises to runners and that to for a marathon. Also I didn't notice any security around, that was hugely strange.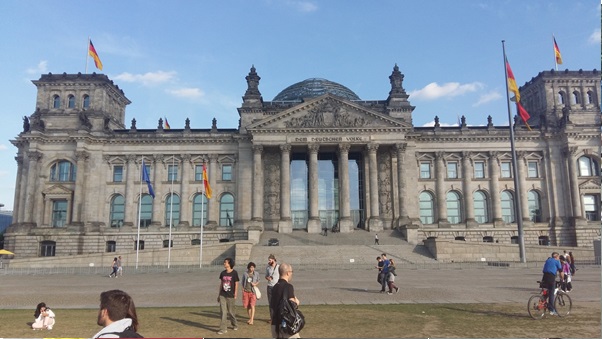 The German Parliament. Bundestag.
The evening before the marathon, Berlin belongs to inline skaters. The inline skaters had to skate a full marathon distance. It was a treat to watch the skaters pass by in a flow. Flowing in a rhythm, the skaters looked beautiful. The fastest skater completed the 42.2km distance in 59min 59sec.
A sub 1-hour record.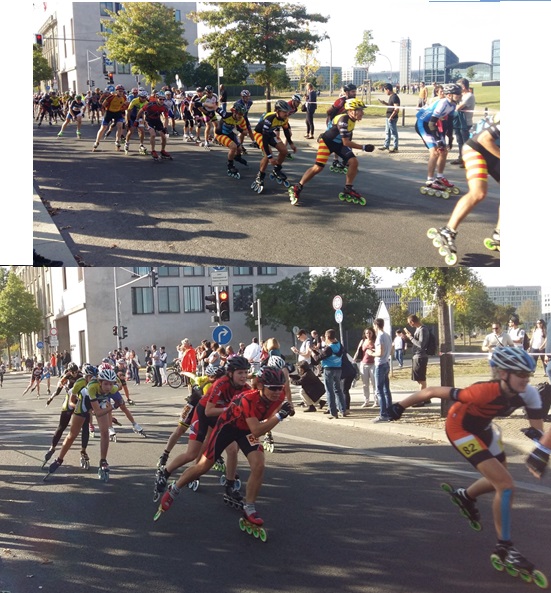 The skaters. In perfect motion.
The Race Day
It was my father's birthday. 25th September. I called my dad and wished him happy birthday. He had told some of his friends' back home that his son will be running a marathon for him today. He was excited and I was touched.
Dressed in my yellow tee and my turban. I was ready for the race. With Manoj, I went to the starting area. With so many runners, one can get lost. But the organizers had done an incredible job. Everything was marked well. Based on my start number, I had to deposit my bag and it wasn't difficult to find my tent.
There were so many volunteers working behind the scene and guiding the runners. So much work and effort goes into organizing an event of such a magnitude. Thanks to all the volunteers and the organizers.
The Race Day
I parked myself in Area G. I was given this parking area based on my previous marathon timing. The race started at 9:15 am and it took me 20 min to cross the start line. So many runners were parked before me.
I said a small prayer and I started easy. Like in every marathon, friends or strangers start together, chatting and laughing with each other. I too chatted with a guy from South Africa and I told him that next year, in 2017, I will be travelling to his country to run the Comrades marathon. He expressed happiness in a typical South African style, wished me good luck and we got separated as the kilometers passed below our feet.
I covered the first 10 km in 55 min and it felt good. Generally, till 30 km, it kind of ok. I have realized this now after running few races. My hard patch starts only after 32km.
The stretch was all asphalt and was flat like an Indian chapatti. Elite runners run this race to create records and personal best times. I too thought, I will have my chance to create my personal best time here. A sub 4 h.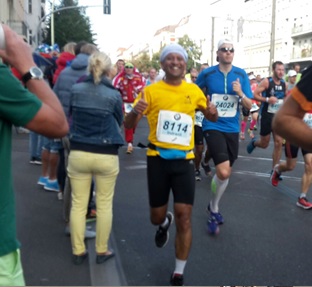 Around 10k. No issues here smiling.

The evening before the marathon, Berlin belongs to inline skaters. The inline skaters had to skate a full marathon distance. It was a treat to watch the skaters pass by in a flow. Flowing in a rhythm, the skaters looked beautiful. The fastest skater completed the 42.2km distance in 59min 59sec.
I covered the half marathon distance of 21.2 km, in 1h 55 minutes. Not bad. But the hard stretch was yet to hit me.
The race took us through the city. There were loads of cheering, interesting slogans and bands played all throughout. I also saw a group with banners demonstrating against this marathon. Probably they were complaining about the closure of the streets due to race. Everyone has the right to express. And I saw everything while running.
Cramps hit me around 36 km. I had to stop. I couldn't put my next step. I wanted to hold something to stretch. There was nothing but a lady (a bit elderly), whose eyes were probably searching another runner. I held her and stretched. It helped. I thanked her and walked a few steps. Then ran a few steps and walked again and subsequently it was a walk and run strategy with intermittent stretching. It had slowed me down but I was moving forward. And that's was most important.
Around 40 km, I picked up again, and finally I saw the Brandeburger Tor at a distance. Ran underneath it and ultimately the smell and the sight of the finish line was there. Tried, exhausted and cramped, I crossed the finish line at 4h 2min 32seconds. Again I missed the sub 4h.
But at least it's a good excuse to return to Berlin marathon.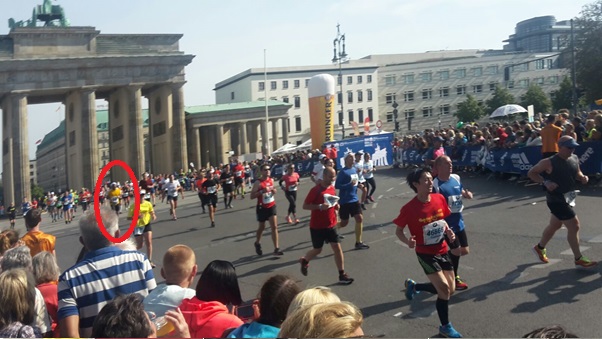 Passed the Brandenburger Tor. I am inside the red oval.

With my tired legs, I received my medal and walked towards the tent to collect my bag. On my way, I picked a cold glass of alcohol-free beer.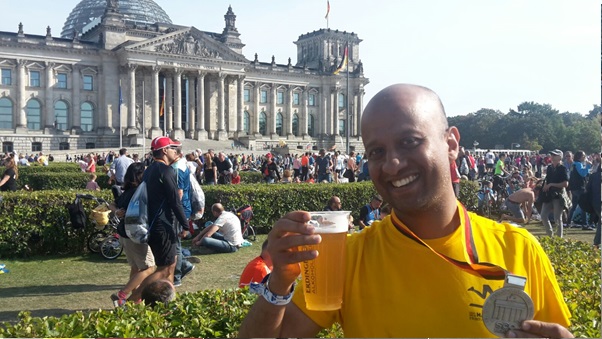 Posing with the medal and alcohol free beer.
Then I walked towards the lawn in front of the German Parliament. Morag was waiting for me there. Later we met Manoj and Wendy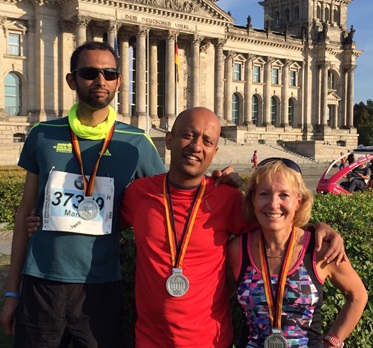 The Gradient. From Top – Manoj, me and Wendy. And behind the German Parliament.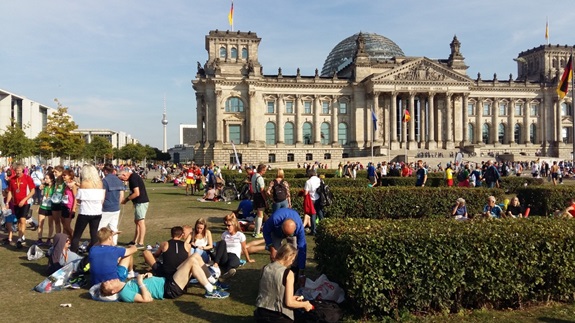 After the Race. Tired but proud runners relaxing in front of the German Parliament.

We rested in the lawn for an hour or two. Later we realized we were hungry and wanted some good food. Wendy recommended a nice place. We followed her. She took us to a restaurant where the wall had once existed.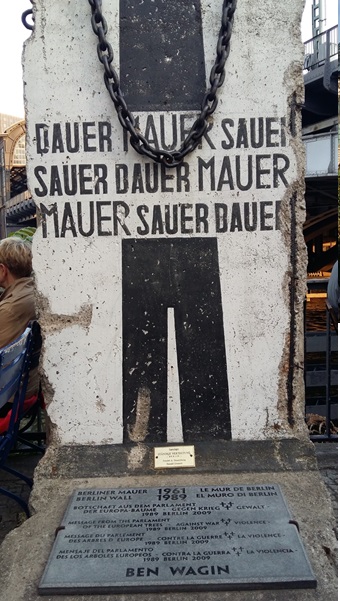 The remains of the wall between the East and West Germany
The next day after the race, we had an easy morning. We put our bags in the railway station locker and travelled a bit of the city.
I saw many runners with medals around their necks. It is not difficult to identify runners' post-marathon day. It's their walking style.
Berlin loves runners and runners love Berlin. And I will be back in Berlin.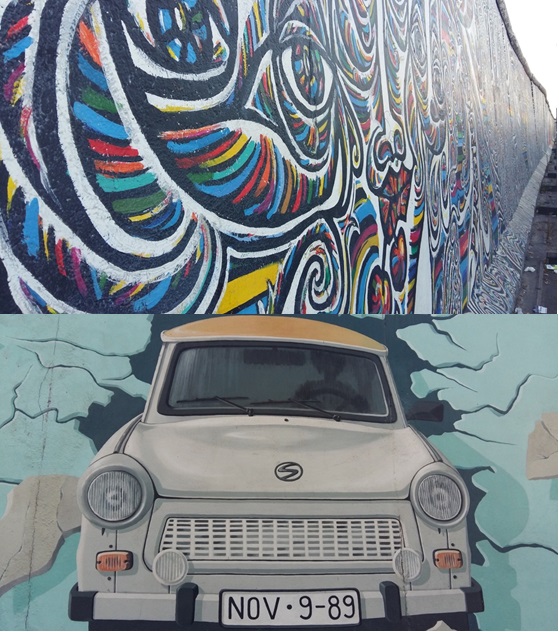 The Part of the wall, that is still there. But now it holds many beautiful paintings.
My race certificate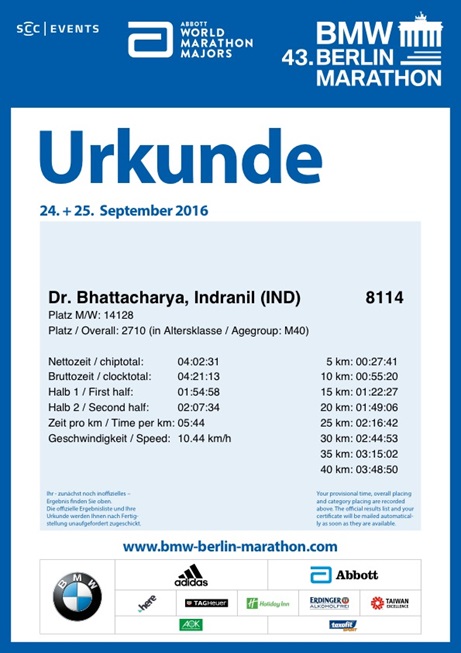 Finished the race in 4hours 2min 31 seconds.

My 8th marathon was it.